Music Events | Music Production | Music Education
Music is an amazing power of communication—a power through sound that brings people together as one. 
Powered by Music's upcoming event is: KREOLE & KRAWFISH commUNITY Gathering on May, 13, 2023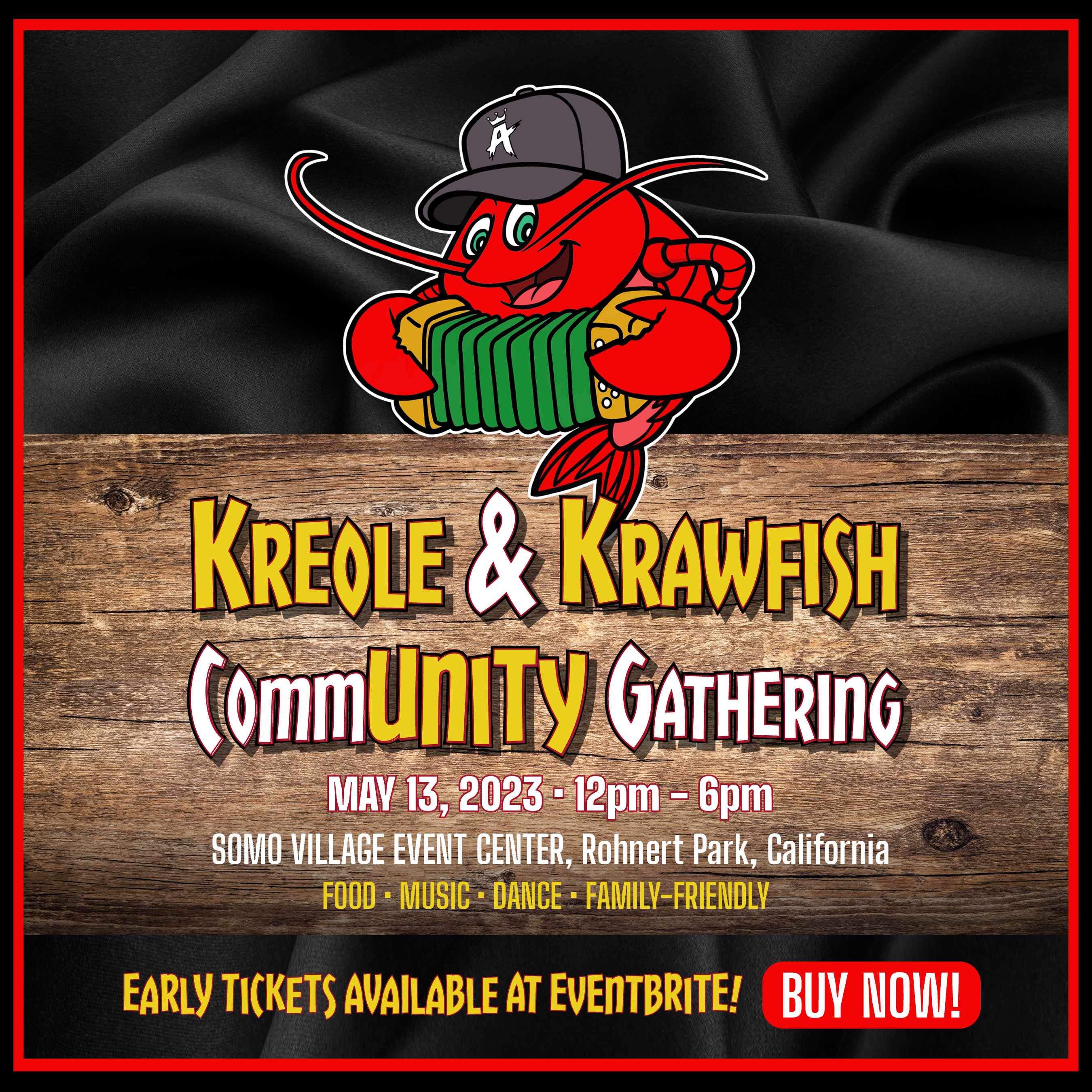 The KREOLE & KRAWFISH commUNITY Gathering is a fundraising   event for Accordion Virtuoso, Andre Thierry's "Are You Ready To   Learn" music program for children, taking place May 13, 2023, in   Rohnert Park, California.
 In its first year, The KREOLE & KRAWFISH stands to be the   commUNITY gathering of the year featuring Sweet and Savory   Louisiana flavors, a New Orleans Brass Band, French Kreole Zydeco,   Accordion Soul music and so much more!
 Hosted by Andre Thierry, POWERED by MUSIC.
 Don't miss this feel-good, family-friendly event! 
Tickets now on sale! Click here to get your tickets! 
---
We co-create through the power of music. The music, events, and projects are the voice that benefits the cause. The gift is creating, producing, and making it happen. Our multicultural events, projects, and programs share diverse world music with inspirational rhythmic experiences, benefitting our local and global communities.
Collaborating ideal relationships and strategic alliances helps us partner with resources that engage in diverse institutions towards supporting our beneficiaries with; music education, healthy foods, clean water, and nature in San Francisco Bay Area, California, the U.S., and abroad.
The assignment is building a universal awareness platform for humanitarian efforts driven by the power of music. Through our music, events, projects, educational programs, and audio, video & film production, we contribute to solutions with a global generation. 
All music events, projects, and educational programs we create are for the soul purpose of Connecting4Cause. 
Powered by Music is a cultural wheel that embodies: Values, Greater Communities, Knowledge and Stories, Language,
Traditions, Arts,  Music, Food, Techniques, Skills & Tools.
Since 2012, Kreole award-winning accordionist, recording artist Andre Thierry, and producer Donna Ramirez have co-created a curriculum for children's music programs such as "Zydeco for Children" and "Are You Ready To Learn With Andre Thierry." Together they have produced four California Kreole Music Festivals, six Benefit Concerts, and many San Francisco Bay Area local venue pop-up events,
all supporting music, education, and feeding healthy meals to under-served communities.
Their next deliberate creation is the 2023 KREOLE & KRAWFISH CommUNITY Gathering,
a fundraiser for the "Are You Ready To Learn with Andre Thierry" music program for children.